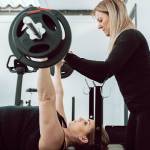 What does our female specialist personal training involve?
We believe that the service which we offer is more than just a "workout". Our trainers TEACH not TELL women how to live an active healthy life. Our training differs from most mainstream personal training services. We don't just plan and guide you through amazing training sessions each week – we also focus on many other holistic areas of female fitness with ongoing additional guidance and support. Areas such nutrition, sleep health, stress management and improving your mindset around fitness and body confidence.

Where is our Personal Training delivered?
Studio PT – come and visit us in our Warrington-based private, female-only fitness studio. Make use of our free parking, large studio space, functional training equipment and massage therapy room.

Mobile PT – enjoy your personal training sessions in the comfort of your own home. Our trainers bring a wide range of portable equipment along to sessions and show you how to exercise at home for life – without the need for a gym membership.
Why choose an FFA Personal Trainer?

All of our Personal Trainers are:
Female
Highly knowledgeable and experienced
Fully qualified (they will always be happy to show evidence of their qualifications to you)
Undergone extensive training in our specific training methods, specific to female fitness
DBS checked, first-aid qualified and insured
Friendly, patient, supportive and empathetic
What is the cost?
We know our trainers are worth every penny. Never just look at the cost of PT session and value it simply as an hour's training. You are not just paying for an hour's workout with us. You are paying for a new outlook on life and your body.

Studio PT = £35 per hour (if booked as a monthly block)
Mobile PT = £40 per hour (if booked as a monthly block)

Our prices reflect:
The trust that your trainer is fully qualified, insured and DBS checked
The luxury of 1:1 support and guidance
Full progressive programme planning – specific to your individual needs and goals
Nutritional pack, advice and on-going support
Personalised home-workouts planned by your trainer, for you to follow between your PT sessions
Support outside of sessions via email/text messages
If you would like to lower the cost of Personal Training, we also offer joint personal training or small group training, which also enables you to train with a friend – please ask for a quote.
How many sessions do I have to book upfront?
We require a booking of a minimum of 1 month's PT to secure you one of our trainers and to enable your trainer to plan you a detailed programme.
The minimum number of PT sessions we offer weekly is 1x per week (totals 4/5 sessions per month dependent on calendar month). Our trainers can offer anything from 1-6 sessions per week – depending on your budget and needs. 
We offer a range of packages on our Personal Training including:
1 x session per week PT (Monthly Package) = £140
1 x session per week PT + Open Access Gym Membership (Monthly Package) = £160
1 x session per month PT + Open Access Gym Membership (Monthly Package) = £75
1 x session per week PT on Zoom (Monthly Package) = £100