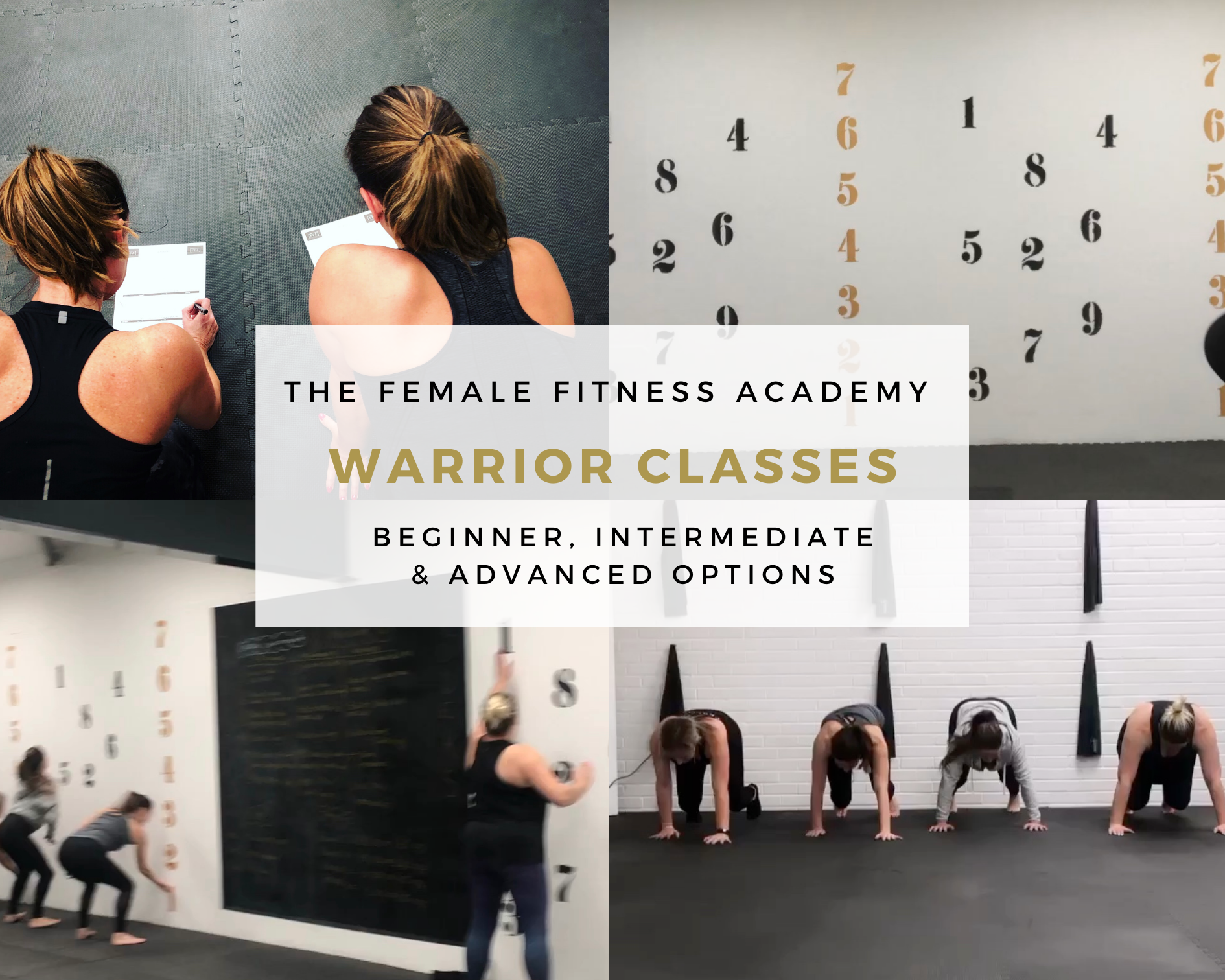 DUE TO COVID TIER 4 – ALL CLASSES ARE SUSPENDED UNTIL FURTHER NOTICE
What is Warrior?
Warrior is The Female Fitness Academy's group fitness training developed by women, for women. Improve every aspect of your fitness – mobility, cardio, bodyweight strength exercises, posture/core training & stress-relief. Push, pull, sweat, stretch, bend and breathe. Every session closed with relaxation & breathing techniques to calm the mind & body. Each movement carefully designed to be adapted for all women – beginner to advanced. Become the fittest & strongest you have ever been…
What other group exercise classes do you offer?
We also run Warrior Yoga and Warrior Circuits at The FFA. Warrior Yoga is delivered by our specialist Yogi Sylvie Ball, who delivers Hatha yoga with a Strala approach. Warrior Circuits is a strength based training session (max 6 people) using a range of functional and bodyweight exercises to achieve a fully body workout.
Is this training suitable for me?
Most fitness classes claim to cater for the beginner to the advanced and yet they fail to provide suitable adaptations to exercises and keep a close enough eye on technique. They often end up challenging women too much, too soon and putting inappropriate stress on their bodies. In our sessions the focus is on correct technique of all exercises at all times. Quality over quantity.
We provide adaptations for all exercises across all of our Warrior classes – 3 levels of intensity for each strength exercise, low and high impact options for cardio drills.

Beginner to exercise or struggling with pelvic floor or joint issues? Choose our low-impact exercise options whilst you build a foundation of fitness and to supplement any rehab work you undergo.

Peri/post-menopausal? Choose our lower-intensity exercises to keep your body moving and energy levels stable without placing undue stress on your body.

Sweat-seeking, fitness fantatic? Choose our high intensity exercise options and nail that technique to push your body safely to it's limits.

How much do the sessions cost?Due to COVID-19 restrictions, we have had to run our Warrior Classes in a "Block Booking" format. The classes must be booked in a one month block of at least one class per week (£25 for 4 week month/£30 for 5 week month).

Where are the sessions located?
Our sessions are delivered in our private fitness Academy.
The Female Fitness Academy, Unit 4 John Street, Warrington, WA2 7UB

Who delivers the sessions?
Robyn Ablott & Claire Gregory are master Personal Trainers at The Female Fitness Academy, who specialise in women's health & fitness. Unlike your average gym class (which are often delivered by L2 Gym Instructors) Robyn & Claire hold extensive fitness qualifications to Masters degree level and strive to continuously improve their knowledge and teaching skills. our Warrior Yoga class is delivered by resident Yogi – Sylvie Ball.

Can I just book & turn up?
Yes. However, if you have any medical conditions, recent or current injuries or are pregnant/postnatal, please contact us via email before your first session to to discuss your individual needs with us.

What do I wear?
Please wear confortable workout clothing. The FFA adopts a "barefoot studio" approach as we believe in striving for optimum alignment during exercise. However, if you do wish to wear training shoes, please make sure you bring an additional indoor pair with you. Many of our clients opt for gripped training socks.

Do I need to bring anything with me?
Bring yourself, a large bottle of water – we will provide hand sanitiser on site.

---