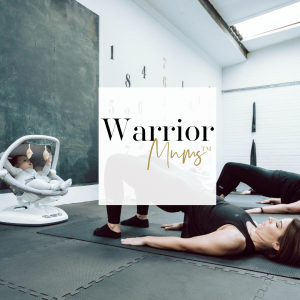 What is Warrior Mums™?

Warrior Mums™ is The Female Fitness Academy's group pregnancy and postnatal fitness training developed by mums, for mums. Maintain (during pregnancy) or rebuild (postnatally) every aspect of your fitness – mobility, cardio, strength, posture, core/pelvic floor & stress-relief. Push, pull, sweat, stretch, bend and breathe. Every session is closed with relaxation & breathing techniques to calm the mind & body and each movement is carefully designed to target areas affected by pregnancy.
Why are these different to other "mum friendly" fitness classes?
Most mum-friendly fitness classes claim to cater for pregnant/postnatal women but simply provide adaptations of general fitness exercises and fail to provide exercises which specifically target areas affected by pregnancy/childbirth. They also often fail to keep a close eye on technique and end up challenging women too much, too soon – putting inappropriate stress on their bodies. In our sessions, the focus is on correct technique of all exercises at all times and the training is progressed gradually, inline with your recovery.
We provide various levels of all our exercises, so you can safely work your way up the levels as you get stronger each week.  We only have 3 clients per session to ensure a personal service during the session.
Do I have to be a brand new mum?
No, we have women join these sessions who have children who are much older than babies. They attend these sessions for a while (before moving on to our general Warrior classes) if they have not undergone much exercise since before having children or if they are still struggling with weakness in the core/pelvic floor or struggling with overall low-fitness levels.
We also encourage Pregnant women to join the sessions also to prepare for birth and recovery.

How much do the sessions cost?
We only have 3 clients (Plus babies) per session so that we can provide a "Semi Personal" training environment. Our sessions are £10 each and we book them in month long block bookings.

Where are the sessions located?
Our sessions are delivered in our private fitness Academy.
The Female Fitness Academy, Unit 4 John Street, Warrington, WA2 7UB

Who delivers the sessions?
Robyn Ablott & Claire Gregory are master Personal Trainers at The Female Fitness Academy, who specialise in women's health & fitness. Unlike your average gym class (which are often delivered by L2 Gym Instructors) Robyn & Claire hold extensive fitness qualifications to Masters degree level and strive to continuously improve their knowledge and teaching skills.

What do I wear?
Please wear confortable workout clothing. The FFA adopts a "barefoot studio" approach as we believe in striving for optimum alignment during exercise. However, if you do wish to wear training shoes, please make sure you bring an additional indoor pair with you. Many of our clients opt for gripped training socks.

Do I need to bring anything with me?
Bring yourself, a large bottle of water – we will provide hand sanitiser on site. We provide Graco Move With Me chairs for all of our babies so that they can be safely secured, away from the equipment and comfortable throughout the session.

---