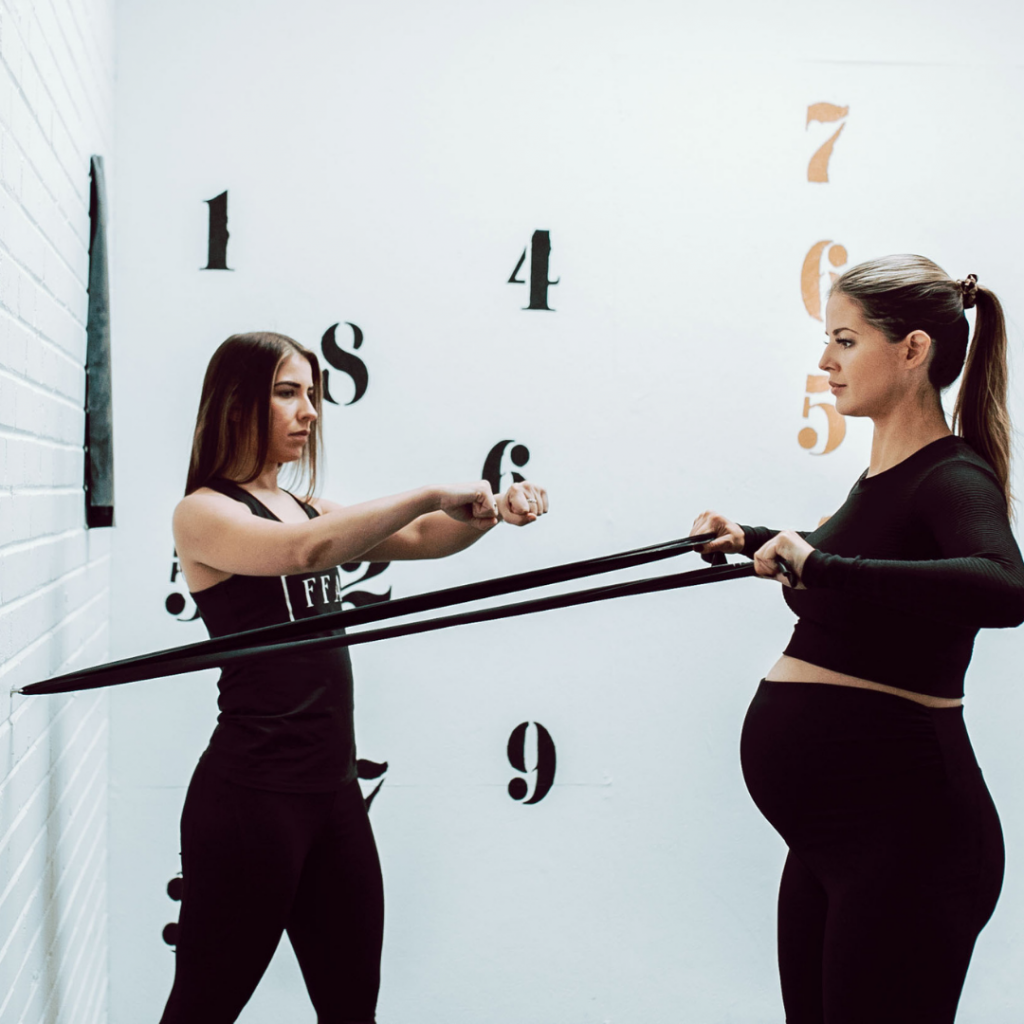 We have specialist​ pregnancy trainers work​ing​ in ​Warrington and surrounding areas. Our 1:1 trainers w​ill ​be able to​​ ​guide you as to what exercises and activities are safe and effective in keeping you fit and well-prepared for the birth.
​Why chose one-to-one sessions?

There is no better way to reach your fitness goals than through one-to-one pregnancy fitness training. You absolutely cannot beat having a trainer right there with you, in each session, checking your form and adapting the exercises and workouts to suit your specific needs.

Key benefits of one-to-one pregnancy training:
Train in our private, female-only fitness studio or in the comfort of your own home
Train on a day and at a time which suits you
Access extra guidance for specific goals/needs
Access support outside of the sessions via emails to your trainer
Ensure that your training is both safe and effective during this special time
Why choose an FFA Pregnancy Specialist Trainer?

All of our Specialist Trainers are:
Female
Highly knowledgeable and experienced
Qualified Personal Trainers
Qualified in pregnancy & post-natal fitness
Undergone extensive, CPD training in our specific training methods
DBS checked, first-aid qualified and insured
Friendly, patient, supportive and empathetic
How do you maintain fitness outside of the 1:1 sessions?

Between your 121 pregnancy fitness sessions with your trainer, you will be given home-workouts to complete, techniques to practise and informational videos to watch.

Do we offer nutritional guidance?
Yes! We offer basic pregnancy nutritional guidance to all our 1:1 clients. You will receive our nutritional pack which includes lots of information on the basics of healthy pregnancy nutrition. If you need to discuss your eating habits more closely with your trainer and have lots of questions, you can also choose to use one of your first 1:1 sessions to cover solely nutrition for an hour.
​
What is the cost?​
O​ur Specialist Trainers are worth every penny. Never just look at the cost of one pregnancy exercise session and value it simply as an hour's training. You are not just paying for an hour's workout with us. You are paying for a new outlook on life and your body and the likelihood that you will be able to enjoy a healthy pregnancy and smooth postnatal recovery. We teach you, not tell you what to do.
The cost of 1:1 training based on a monthly package (can be cancelled at any time prior to next month payment:
– Studio-based training = £35 per hour.
– Mobile (delivered in the home) training = £40 per hour
– Online Zoom 1:1 training = £25​
How many sessions do we require you to book upfront?
We require a booking of a minimum of 1 month's personal training to secure you an FFA Specialist Trainer and allow them to plan a suitable programme for you. The minimum number of PT sessions we offer weekly is 1x per week (totals 4/5 sessions per month dependent on calendar month).

However, our trainers can offer anything from 1-6 sessions per week dependent on your budget/availability in your area