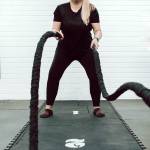 Do you want to be able to train in a women's only, boutique fitness environment?
Our Warrington town centre fitness studio is a private training facility with a wide range of equipment that can be accessed as part of our FFA Gym Membership. This women's only facility has been refurbed to a high standard and provides a safe, welcoming training environment, whatever your fitness level.
Do you want to be able to access On Demand virtual classes while you train?
As a member, you will be able to access our on demand virtual class package and stream workouts on our studio screen so that you can follow along in real time while you workout.
Do you want access to high quality functional training equipment?
We have a wide range of equipment including (and not limited to)…. Assault bike, Treadmill, Battle ropes, Kettlebells, Dumbbells, Deadlift Station, Squat Rack, Punch Bags, Cable Machine, Pull up bar, TRX, Bosu, Plyo Boxes……
How does the membership work?
We allow a maximum of 4 users per hour to ensure access to equipment and allowing for COVID restrictions.
A monthly gym membership is £25. We do ask that if you are new to The FFA that you also book a 45 min induction and movement analysis session in prior to accessing the facility.
There is no contract – membership can be cancelled at any time