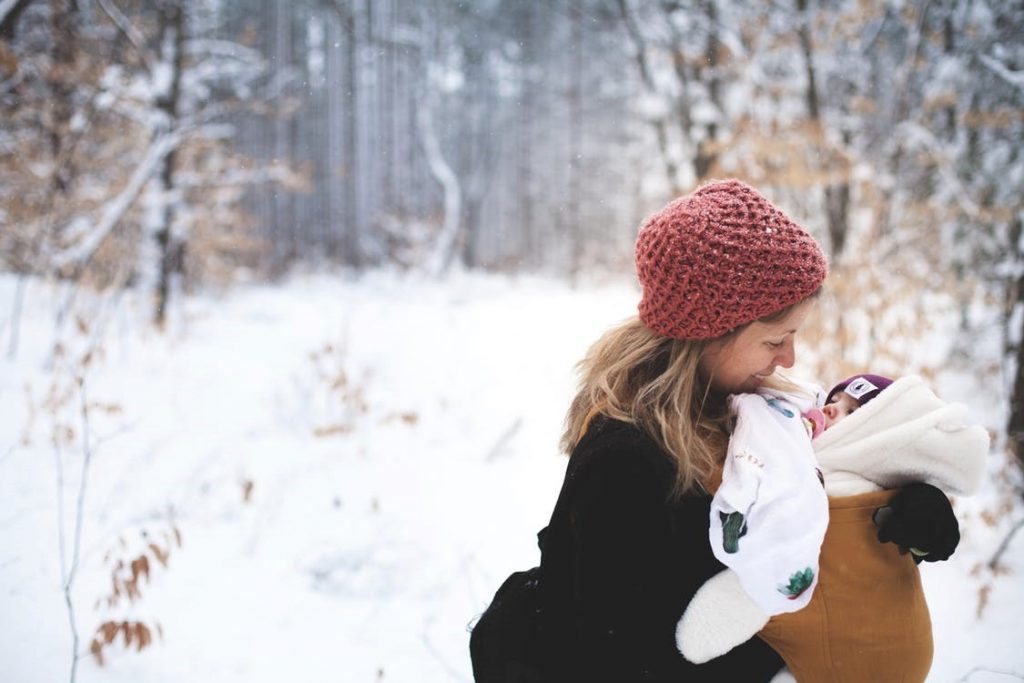 Summer has been and gone and the colder months are already upon us. And, while this means wrapping yourself up when you go outdoors to exercise, as a new mother, you'll also need to know how to keep your baby warm. Here, Steve Cochrane from designer childrenswear retailer Childrenswardrobe, shares his top tips for dressing your baby for your winter walks together.
As the winter draws closer, more of us are becoming tempted to shelter inside from the cold and wet conditions. But, it's important for both your physical and mental health to get out and about for some fresh air and a little bit of exercise. But, when you're a new mother, this'll mean taking your little one along with you.
While you might be well-versed on what you should be wearing yourself out in the cold, it's important that you also keep your baby warm and cosy. Here, I'll be sharing my top tips for dressing your baby for your winter walks together.
Keep them at the right temperature
Your baby's body temperature should normally be around 36.4°C (NHS), but when it's cold outside, it can be a little more difficult to maintain this. But, you should still be checking what their temperature is when out on your winter walks. While it might not be practical to take a thermometer out with you to do this, checking the temperature of their body — most notably their toes and belly — yourself can be a good indicator of whether they're too hot or cold.
Ideally, your baby's toes should feel on the cooler side, while their tummy needs to feel warm to the touch. Although slight temperature changes to these body parts don't always mean they're too hot or cold, they can do. This includes:
Cold toes: This can signify that your child is too cold and will need extra layers on.
Cold belly: A cold belly can show that your child is unable to regulate their body temperature and struggling to get warm, so they'll need a few extra layers.
Hot toes: Warm toes aren't usually anything to worry about but if they feel hot to the touch, your baby may be overheating and need some layers removing.
Hot belly: Similarly, a belly that feels hot can show that your baby is too warm, so again, you'll need to remove a layer or two to cool them down.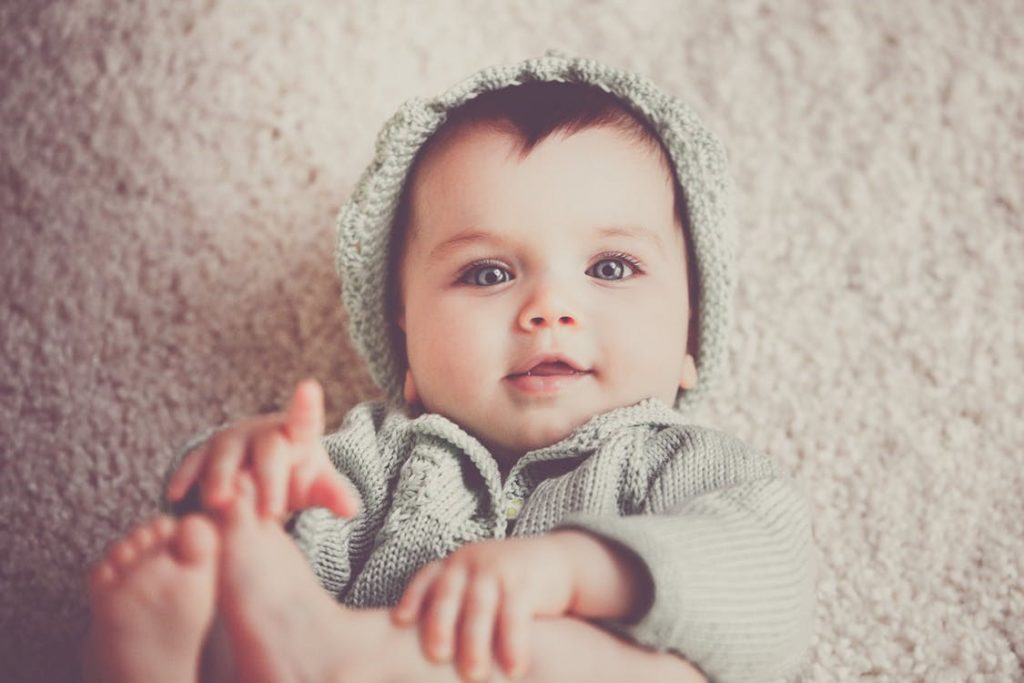 Choose warm fabrics

Before you pick out your child's outfit for your walk, you'll need to consider the fabrics that their clothes are made of. Anything they wear will need to be made of an insulating fabric, such as wool or polyester, that'll keep them warm but also can wick away any moisture from drizzly weather. Knitted clothing is great for making your baby feel cosy and, as it's so soft, it'll be perfect for them to snuggle into and feel comforted by if they're feeling a little sleepy on your walk.
I'd avoid dressing your baby in anything that's pure cotton as this can be a little too porous, meaning it'll absorb any moisture and make it harder for them to get warm when it's already cold outside.
Think waterproofs
The British winters are wet and miserable, which means that as well as warm fabrics, you'll also need to think about incorporating waterproofs into your child's winter outfits. Of course, getting a stroller cover will help to keep them warm and dry, but having a raincoat or waterproof jacket you can layer on top of their clothing will help to ensure they aren't absorbing moisture and catching a chill.
The best waterproof coatings include rubber, polyvinyl chloride (PVS), polyurethane (PU), silicone and wax, so make sure you're keeping your eyes peeled for waterproofs made from this material. And, to get the best absorbency, be sure to check the waterproof rating: the higher the number, the more intensive the rain it can withstand.
Layer them up
Dressing your baby in layers allows you to adjust to their needs and prevent them from overheating or getting too cold when you're out on your walks. I'd recommend starting with a base layer which could include thermal leggings and a long-sleeved vest, and layering a bodysuit, extra pair of trousers and a long sleeve top over this.
They'll of course need a coat with a hood or a bodywarmer for their top layer, And, don't forget some boots — fur-lined ones can help to keep their toes warm and toasty.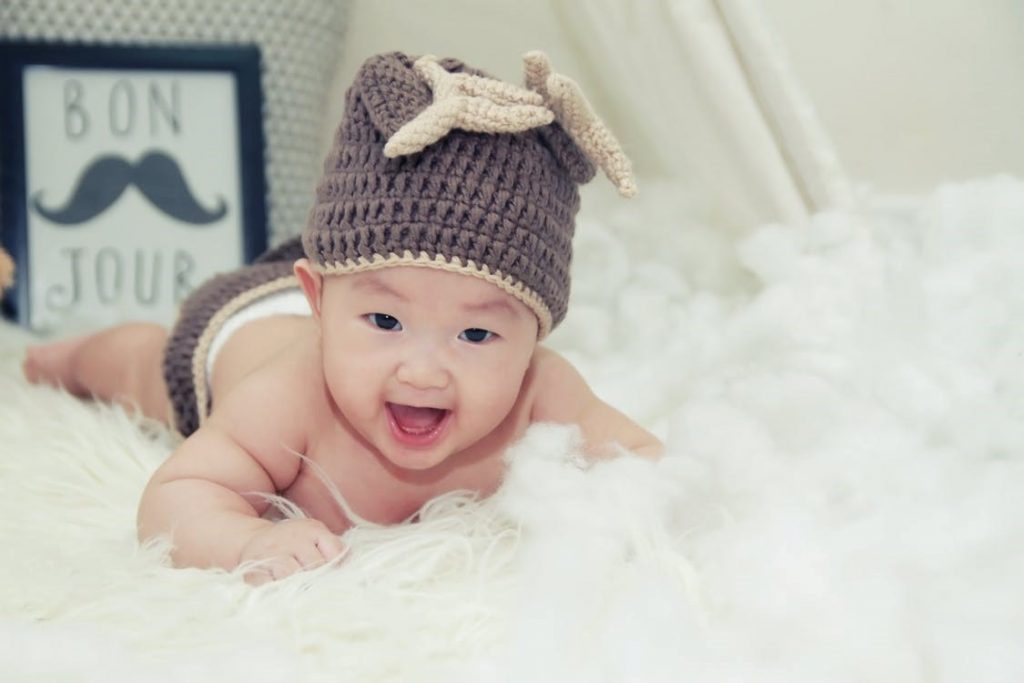 Add cosy accessories

You'll also need to think about keeping your baby's head, feet, neck and hands warm and adding some soft accessories to their winter outfits can help you do this. Once their hands and feet get cold, the rest of their body will soon follow suit, so it's important that you're getting some cosy socks to put on their feet, as well as a good pair of mittens to keep their hands warm.
Similarly, if their head and ears get cold, they'll quickly feel a chill elsewhere. To combat this, get them a knitted hat that is big enough to cover their ears but doesn't obstruct their view of the beautiful nature you'll see on your walk. A scarf is also essential for warming up their neck and ensuring no draughts get beneath their clothing.
When choosing your baby's winter accessories, opt for fabrics like wool, velour and acrylic as these lock in heat so will keep your little one warm and cosy.
Protecting your baby when out in the cold is crucial, so make sure you follow my top five tips when you're heading out on your next winter walk together.
*Guest blog by Children's Wardrobe