Right now, perhaps more than ever, it is so important to keep our kids moving! Short bursts of physical activity interspersed throughout the day is so much more realistic than trying to get your kids to partake in an hour of structured "PE" each day.
My Favourites
I have collected my favourite activities which I like to do with my girls to help keep them (and me) sane during this very strange time where we are all cooped up at home. My eldest has ADHD and sensory issues, so interspersing short bursts of activity throughout each day is nothing new to us, it forms an essential part of what is called a "sensory diet" for her and helps to regulate her nervous system and emotions. Whilst choosing the activities for the day, it got me thinking just how much some of these activities could help all children. If you are home-schooling, regular movement breaks are essential to help your child maintain focus, break up boredom and provide them with a flood of feel good hormones! Remember, PRAISE your child a lot during these activities and get involved yourself if you can! Every little bit of physical activity adds up and helps to keep the whole family fit!
You could create a schedule for each day of what you plan to do, or if you prefer a little randomness, you could write each of these activities on card and get your child to pick out a few cards each day.
So here goes…have fun experimenting!
Obstacle Course/Circuit training
Set up an obstacle course in your home or garden. Inside? Use furniture, cushions, pillows and mark out stations, or create ladders with masking tape!
In the garden? Use chalk to mark out stations. Your kids could even use their art skills to help to create station cards with specific exercises drawn on such jumping jacks, skipping and press ups.
Handstands
A great activity to get blood flow to the brain and work on those core muscles to break up home-schooling. Time yourselves – who can hold the handstand against the wall for the longest?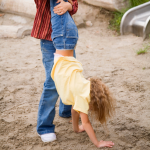 Number wall
This one is great for a burst of physical activity to wake up the mind and body between school subjects. Find a plain wall and create a number wall out of masking tape. Use the tape to mark out numbers on the wall in a random order. Now shout out random numbers and see how quickly they can touch the number. Place some high and some low to really get them jumping, bending and twisting. You can even work on their balance by having them touch number sequences whilst balancing on one leg!
Bubble popping
This one's for the little kids! Blow bubbles and let them happily race around popping as many as they can!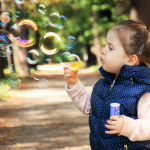 Disco
Order a cheap disco light and glow sticks from offline and schedule a weekly disco in your diary for the whole family to attend. Get dressed up for this just as you normally would do for an event – party clothes on, hair and holographic rave make-up done, disco shoes at the ready!
Balloon Volleyball/Tennis
Dig out those balloons from the junk draw or order some offline as there are lots of creative games we can be playing with a balloon. Balloon volleyball is great as it gets you all connecting and adds competition, and you don't risk any of your precious ornaments, unlike using a real ball. "Don't let the ball touch the floor" is another fun one I used to love playing with my brother in my youth along with balloon "puff" races – whose balloon can reach the finish line first using just your breath to blow the balloon along its course. Perhaps, grab your rackets and have a game of balloon tennis in the garden!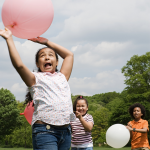 SuperKids Challenge
Take part in our SuperKids Challenge – a 30 day challenge consisting of 30 fun Superhero workouts for your little ones to complete. Each workout is led by our very own SuperKids here at the SuperKid HQ and there is even a printable diary to complete with lots of fun activities and mini fitness challenges included.
You can order the challenge here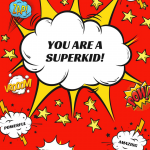 Dancing
Create a playlist of your little one's favourite tracks, press play and bust a move, break a sweat and see their little faces light up.
Skipping
Practice different skipping techniques or get involved in some old-school playground skipping games, where two people hold the rope at each end.
Hopscotch
Kids playground games are just the best aren't they?! Hopscotch can be recreated with chalk, masking tape or electric tape! Indoors across the landing or outdoors in the garden.
Boxing!
Boxing on the pads lets out some serious aggression and frustration – something that our little ones may very well be feeling right now – constantly cooped up inside! If you are lucky enough to own some kids gloves and pads, dig them out the garage now and get practising combos! You can also order mitts from many online shops.
Wheelbarrow races
Are there a few of you in your family? The partner wheelbarrow race is a tough workout on those arms and core! Who will be the winner?
Hula Hoop
Have a hula hoop hiding somewhere in that garden shed? Dig it out and get wiggling!
Musical statues
Work on cardio, patience and balance in this fun, traditional party game.
Treasure Hunt
Hide clues around the house (as far apart as you can!) and have the kids race to find each one. Finish with some "treasure" at the end!
Parachute games
You don't have to purchase a fancy kid's parachute game online. A simple large, double or king-size sheet will do! Have member of the family hold a corner each and then flap up and down as each of you run underneath. Put teddies on top and create a wavy sea for them to sail.
Carnival
Set up your own carnival in the garden! Who can knock down the most tins? Who can get the balls in the buckets? Can you create a DIY crazy golf trial?
Pillow Fight
Grab those pillows and it's game on!
Tug of War
Tie t-shirts together or use a skipping rope! Ready, steady, PULL!
Sports Day
If you are lucky enough to have a large garden, get creative with races. One-legged race, three-legged, sack race (use pillowcases) and egg & spoon!
Bikes/Scooters
Make the most of that "one hour of exercise per day" and jump on those bikes or scooters for a few laps of the neighbourhood.
Twister
Many of us have a game of twister hidden away under the stairs, gathering dust! Now's the time dig it out and challenge your whole family.
Have you got any great ideas to share? Please comment below with some more inspiration…